Click here to view original web page at www.lansingstar.com
I suppose if you work downtown every day you are used to it by now. But if you go downtown for optional things like shopping a lot of people are thinking twice, and then a few times more before they decide to actually go. Ithaca's new parking scheme […]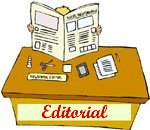 I suppose if you work downtown every day you are used to it by now. But if you go downtown for optional things like shopping a lot of people are thinking twice, and then a few times more before they decide to actually go. Ithaca's new parking scheme is so confusing and difficult that I don't like going there any more. Add road construction, pot holes and municipal speed bumps, and it really makes you wonder what the city government is thinking. Do they want to keep people out of Ithaca?
I parked in the garage for a couple of days when I was called to serve on jury duty. As I drove out the gate attendant, who doesn't actually collect money any more, was kind as he explained how to use the payment device with my credit card. Lucky for me, the attendant was kind again the next day, because even after using it once before I couldn't figure out what goes where and when. it seemed to me it now takes longer to exit the garage.
When you park on the street it can be much worse. Certain areas use pay stations that are horribly designed and a good walk from where you parked. It means a lot of walking around and has caused a lot of stress for a lot of people. My wife, who has little fingers, helped a stranger who has big fingers, because the credit card slot is so poorly designed that he couldn't get his card out once he had slid it in. She also had to explain to him how it worked because the instructions are none too clear.
In other areas it is not clear whether you can still put quarters in the parking meters (which would be my preference). I think you can, but I don't dare try it. The easiest thing is to download a parking app onto your smart phone. I find the app is pretty simple to use once you have set it up for your car. But you have to pay a premium for using the app. Since Ithaca raised it's parking fees it's like paying more twice every time you use the app. But I go downtown so infrequently any more, largely because of the parking mess, that I figure the simplicity of using the app is worth it. Of course you have to be sure you are in a part of town that the app applies to, not one of the horrendous parking station spots.
I don't mind paying a few quarters when I have an errand downtown. But I parked blocks away, where parking is free, when I had to stop by my attorney's office several weeks ago. I did it to avoid the pay station, not to skip paying. Not that I don't need the exercise! But I want to exercise because I want to exercise, not because I am on the parking workout!
Downtown merchants I know are furious. Ithaca has never been a particularly parking friendly city, but the confusion, annoyance, and just plain lousy system that is in place now has to be keeping more people away than just me. That hurts downtown businesses. You would think a city would want to do everything it can to help local businesses, but that is, evidently, not the case.
I grew up in a big city where parking these days can cost upward of $40 a day. So I consider Ithaca parking a bargain. But I don't subscribe to the theory of bargains saving you money. If an item in a store is 10% off, you are not saving 10% no matter how the store spins it. You are spending 90%. With that in mind, I like to think about whether I need something before I buy it, not saving 10%. Once I have determined what I need or want, I try to find the best price.
I don't need to go to downtown Ithaca. I can get most of what I need in the Town or Village of Lansing. The Village in particular has a robust retail area with plenty of free parking. That makes it incumbent on the city to make it as easy for me to go there as possible so I will drop my dollars in Ithaca instead of in my home township. City officials clearly don't understand that concept. If ever the stereotype of government bureaucracy making simple things as complicated as possible applied anywhere, it applies to Ithaca parking right now.
It's a shame, because Ithaca is a great city. Except the parking.
v12i21